Description
Design:
No outlet, no worries: The laptop's exceptional battery life gives you more power to keep going without having to worry about your next recharge.
Interact with the touch of a finger: Whether you're browsing through photos, editing spreadsheets or replying to social media posts, the standard 29.5cm (11.6″) edge-to-edge touch screen makes every task easy.
Communicate with clarity: Make sure your voice is heard in video chats or phone calls, no matter where you take the conversation. Noise-canceling dual digital array microphones make web chats crystal-clear, even in noisy environment.
Ready for action
Fast and smooth performance: From web surfing to video streaming, your tasks run smoothly with a 4th Gen Intel® processor.
Fun and easy to use: Windows 8 makes using your touch screen fun with simple ways to scroll, zoom and tap through pictures, music and more.
Convenient connections: A built-in media card reader quickly imports files from your camera, while USB 3.0 and Ethernet let you move data quickly to other devices. Watch movies on a high-definition TV with the HDMI port.
Thin, light and comfortable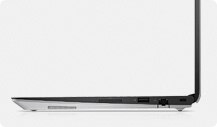 Highly portable
Starting at around 21.2mm (1″) thin and just 1.4 kg (3 lb), this laptop is so light and slim, you'll check twice to make sure it's in your bag.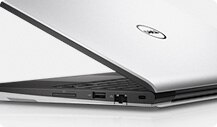 Sturdy design
A strong composite frame, sturdy keyboard and large palmrest make your laptop both comfortable and durable.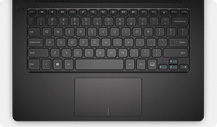 Large touchpad
Accurately point, zoom and scroll using a large and comfortable touchpad.